ArtReach Children's Theatre Plays offers
Award-Winning Scripts for Kids to perform! Our Christmas Musicals and School Play Packages are Perfect for Teachers and Students!
---

Teachers, this is what you are looking for! These School Plays are easy for you to stage and easy for kids to perform!
---

The School Play Package gives you everything you need and makes it easy to create a memorable performance at your school!
---
T

The School Play Package includes:
CD of Background Music and Sound Effects.
Teachers Guide with classroom activities and help for beginning directors.
Master script and the rights to make as many copies of the script that you need for your large cast.
License to perform one time! You may also purchase the rights for additional performances.
---

Choose from straight plays or musicals. (Musicals come with backing tracks for kids to sing to.)
---

Teachers, these School Plays are written especially for elementary and primary school teachers to direct and large cast of students to perform.
---

No stage is necessary! Perform in your gym, cafeteria or any large room! The open staging makes it easy for all!
---

Dialogue is simple, fresh and easy to memorize.
---

School Play Packages are available for immediate download!
---

Every child in your cast has a fun role to play with their own lines or their own special action.
---

The School scripts feature familiar storylines with upbeat endings!
---

The audience is often asked to join in the fun, and action often spills into the aisles!
---

The School Play Package gives you the freedom and the rights to adapt the script to your school's special needs! You may add lines, songs and characters if you like.
---

Check out the Musicals Page for plays with easy songs. Other scripts are straight plays without songs, making it easier for non-music teachers to direct!
---

Lines are easy to learn and memorize taking the fear out of performance and putting the emphasis on fun!
---

Famous stories are simplified and shortened for students to learn easily! All dialogue is age-appropriate and kid-friendly!
---

All scripts run under an hour!
---

The action flows throughout the play with no stops and starts to put a lull in the performance.
---

No long speeches! No difficult scenery requirements! These school plays encourage kids and audience to use their imaginations!
---

All plays for large casts have audience participation and interaction!
---

These kid's plays build confidence, promote team spirit and eliminate rehearsal rowdiness.
---

"We cast 1st through 5th grade kids in an inner-city school, all second language learners, and they loved it."
Greg Tutt, Teacher, Buford Elementary, Lennox, CA
---

"I have directed three other school plays from your site and they are absolutely perfect for elementary school."
Kristen Dias, Prince Andrew Public School, LaSalle ON
---

"Our Club includes 3rd through 5th graders. We love your scripts!"
Jennifer Sypert, Floyd Elementary, Mesquite, Texas
---

"Thanks for all the wonderful plays you do!"
Jennifer Stearns, Beaverbank Kinsac/Sackville Heights Elem, Nova Scotia
---

"Your scripts have been perfect for our students. Thank you for making affordable, engaging scripts that appeal to all students!"
Sarah Maggard, David T Wilson Elementary, Brandenburg, KY
---
School Plays
Scripts for Kids to Perform!
ArtReach's School Plays are written especially for young performers.
Scripts are perfect for a large cast of students and easy for teachers to direct!

Kids Love ArtReach's School Plays!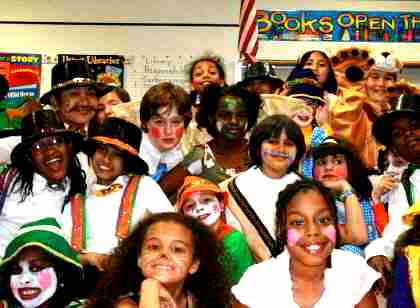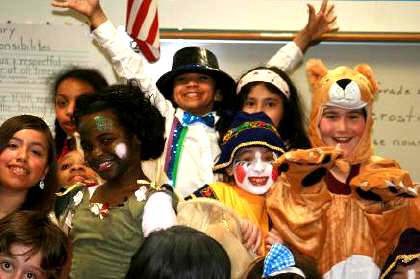 Alice E. Grady Elementary School, Pinocchio School Play Cast, Elmsford, NY
ArtReach's Bestselling New Musical!
TREASURE ISLAND: YOUNG PIRATES OF THE CARIBBEAN!

"We have done your school plays for the last 5 years.
I love them! They are written so appropriately for the kids to both understand and memorize. Thank you for helping to instill a love of theatre at such an early age in our students!"
Karen Dietry, Teacher, Plain City Elementary School, OH


Easy for Kids to Learn, Perform and Enjoy!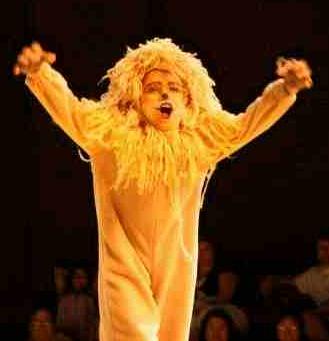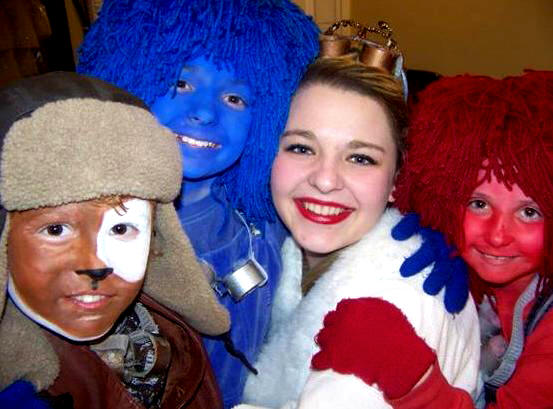 Lakefront Youth Theatre Experience, New Orleans - Corinth Theatre Arts, MS
Read About Each of ArtReach's School Plays!
Click on pictures for pictures, testimonials, cast lists and script samples!
Large Cast Plays for Schools & Students!


A joyous, musical version of the popular Charles Dickens Christmas story with traditional Christmas carols, music and songs for cast and audience to sing-along! Flexible, large cast of about 33-38 children: 5 female, 6 male, 22-27 male/female; grades 1-6; about 45 minutes. Musical Play for Children to Perform.

Christmas Plays - Children's Christmas Plays, Children's Christmas Musicals

---

The Cinderella story for Christmas! This great new Christmas Musical Play comes complete with child-friendly dialogue and familiar Christmas carols the audience and performers can sing together. Flexible, large cast of about 30 children: 13 female, 5 male, about 12 male/female; grades 1-6; about 45-50 minutes. Musical Play for Children to Perform.

Christmas Plays - Children's Christmas Plays, Children's Christmas Musicals

---

Peter Pan for Christmas! This great Christmas Musical Play comes complete with child-friendly dialogue and familiar Christmas carols audience and performers can sing together. Flexible cast of about 35 children: 3 female, 1 male, about 31 male/female; grades 1-6; about 45-50 minutes. Musical Play for Children to Perform.

Christmas Plays - Children's Christmas Plays, Children's Christmas Musicals

---

A CHRISTMAS WIZARD OF OZ - Christmas Musical Play!

The Wizard of Oz for Christmas! This great Christmas Musical Play comes complete with child-friendly dialogue and familiar Christmas carols audience and performers can sing together. Flexible cast of about 34 children: 4 female, 5 male, about 25 male/female; grades 1-6; about 45-50 minutes. Musical Play for Children to Perform.

Christmas Plays - Children's Christmas Plays, Children's Christmas Musicals

---

Snow White becomes the perfect Christmas Story! Santa tells us that the Wicked Queen hates Christmas and is plotting against Snow White because she brings the lovely winter snow. Flexible, large cast of about 32 children: 2-3 female, 3 male, about 26 male/female; grades 1-6; about 45 minutes. Musical Play for Children to Perform.

Christmas Plays - Children's Christmas Plays, Children's Christmas Musicals

---

The true and poignant story of Sadako Sasaki and her quest to fold a thousand cranes. Thought-provoking and dramatic, even the youngest children can understand this play's deepest meanings. Flexible, large cast of about 17-38 children; about 20 male/female; grades 1-6; about 30-40 minutes. School Play for Children to Perform.

---

Easy dialogue and clever simple staging that involves all your students! - with loads of fun and great audience participation! Flexible, large cast of about 31 children: 3 female, 9 male, about 19 male/female; grades 1-6; about 45 minutes. School Play for Children to Perform.

---

This innovative children's playscript brings Lewis Carroll's beloved classic to life. Cleverly staged - there are FIVE Alices! - with loads of fun and great audience participation! Flexible, large cast of about 24 children: 5 female, 1 male, about 18 male/female; grades 1-6; about 40-45 minutes. School Play for Children to Perform.

---

A world of enchantment comes alive with your students in all the starring roles. Our popular children's play is true to the vision of Charles Perrault's classic story. Flexible, large cast of about 29 children: 7 female, 7 male, about 15 male/female; easily adapted for smaller/larger casts; grades 1-6; about 40-45 minutes. School Play for Children to Perform.

---

The timeless classic everyone loves - with all the wonderment of a Fairy Godmother, Prince Charming, a pumpkin that turns into a carriage! Flexible, large cast of about 24 children: 9 female, 5 male, about 10-12 male/female; easily adapted for smaller/larger casts; grades 1-6; about 30-40 minutes. School Play for Children to Perform.

---

Hilarious, fun-filled large cast children's play with audience participation, this is a joyous adaptation of Hans Christian Andersen's beloved tale. A children's play for young and old! Flexible, large cast of about 37 children: 4 female, 2 male, about 31 male/female; grades 1-6; about 40-45 minutes. School Play for Children to Perform.

---

Spine-tingling, hilarious Halloween play for children & families! Ideal for middle & jr. high students. Flexible, large cast of about 22: 8 female, 14 male; easily adapted for smaller/larger casts; grades 6-10; about 45 minutes. School Play for Middle / Jr. High Performers.

---

A faithful telling of the beloved Hans Christian Andersen story, simplified for a large cast of young performers. Lots of audience interaction, easy songs and a happy ending! Flexible, large cast of about 24-39 children: 10 female, 7 male, about 7-22 male/female; easily adapted for smaller/larger casts; grades 1-6; about 45 minutes. Musical Play, School Play for Children to Perform.

---

PETER PAN - Our Playscript Adaptation of the Timeless Story!

Fast paced and full of mischievous fun and audience participation, this is a heart-warming script adaptation of one of the world's most enduring and timeless stories. Flexible, large cast of about 30 children: 7 female, 4 male, about 19 male/female; grades 1-6; about 40-45 minutes. School Play for Children to Perform.

---

This innovative script adaptation of the beloved Italian story by Carlo Collodi brings the magic to life with lots of fun, humor, puppets, puppeteers, all your favorite characters and audience participation! Flexible, large cast of about 30 children: 3 female, 4 male, about 23 male/female; grades 1-6; about 45 minutes. School Play for Children to Perform.

---

A faithful telling of the Grimms' fairy tale, simplified for a large cast of young performers. Lots of audience interaction, easy songs and a happy ending! Flexible, large cast of about 40 children: 10 female, 8 male, all others male/female; easily adapted for smaller/larger casts; grades 1-6; about 45 minutes. School Musical Play for Children to Perform.

---

Full of magic and enchantment - the beloved story of the beautiful Princess, her wicked stepmother, Prince Charming, and those seven lovable Dwarfs. Flexible, large cast of about 30 children: 2-3 female, 2 male, about 24 male/female; easily adapted for smaller/larger casts; grades 1-6; about 30-40 minutes. School Play for Children to Perform.

---

TREASURE ISLAND - Our Playscript Adaptation of the Classic Story!

Fast paced and full of mischievous fun, adventure and pirate seafaring songs for the kids to sing! A heart-warming script adaptation of Robert Lewis Stevenson's classic story. Flexible, large cast of about 30 children: all male or female; grades 1-6; about 45 minutes. School Play for Children to Perform.

---

A fun-filled large cast Christmas musical based on Clement Moore's famous poem. Easy songs from familiar Christmas carols, lots of laughs, and audience participation! Flexible large cast of 30-45 children: 4 female, 5 male, 21-35 male/female; easily adapted for smaller/larger casts; grades 1-6; about 45 minutes. Musical Play, School Play for Children to Perform.

Christmas Plays - Children's Christmas Plays, Children's Christmas Musicals

---

This poignant musical children's play weaves soulful spirituals, gospels, turbulent history and meaningful audience participation into an event of emotional impact. Flexible, multicultural, multigenerational cast of about 25: 5 female, 6 male, about 14 male/female; grades 1-6, schools & churches; about 45-50 minutes. Musical Play, School Play for Children to Perform.

---

THE WIZARD OF OZ - Our Most Popular Children's School Play!
Also Available in a BILINGUAL (Spanish-English) Version!: El Mago de Oz

Enchantment abounds as Dorothy begins her wondrous journey to the Land of Oz! A faithful telling of the story you know so well, simplified for a large cast of young performers, and lots of fun for everyone! Flexible, large cast of about 25 children: 4 female, 5 male, about 16 male/female; grades 1-6; about 45-50 minutes. School Play for Children to Perform.

---